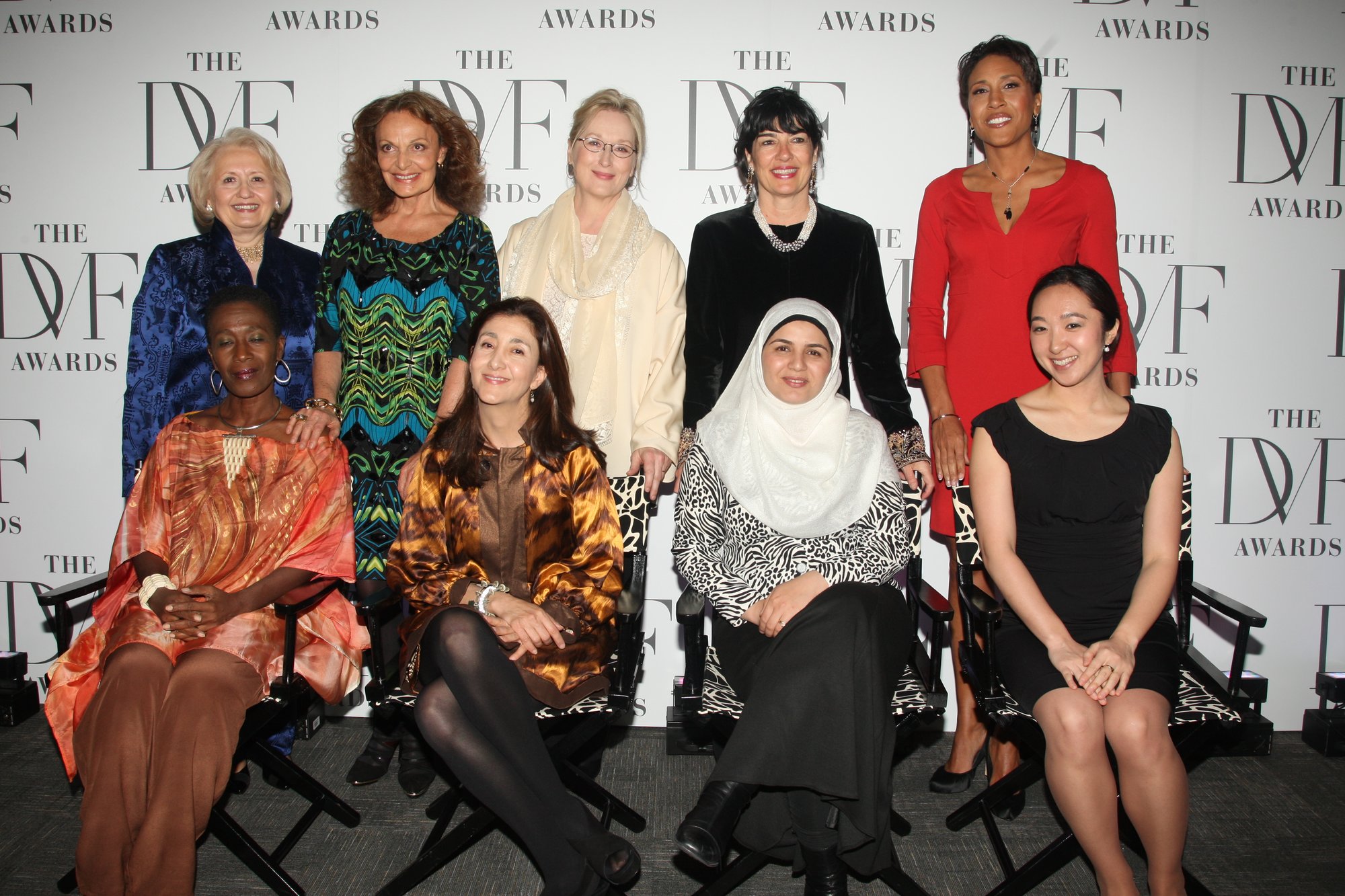 The 2010 DVF Awards Honorees
The following extraordinary women were honored at the 1st annual DVF Awards in New York on March 13, 2010:
The Lifetime Leadership DVF Award
Ingrid Betancourt
Ingrid Betancourt, is a Franco-Colombian female politician, former senator and anti-corruption activist. She is behind the creation of the Ingrid Bétancourt Foundation, whose purpose is to engage in the Defense of Freedom in places where freedom is in danger and for those who have lost their freedom as victims of criminal hands.
The International DVF Award
Danielle Saint Lôt
Danielle Saint Lôt is founder and president of the Danielle Saint-Lôt Haiti Women's Foundation, a U.S.-based 501c3 organization, which advances programs to empower Haitian women, advocate for the missing middle, and grow the creative economy. The foundation's signature project, a one-year Haitian Women's Business Academy, has trained and prepared 25 women entrepreneurs for the global marketplace. Danielle also serves as Ambassador at Large of the Republic of Haiti for Women's Empowerment. Danielle is also the former executive director of Haiti's Chamber of Commerce and Industry and its former Minister of Commerce, Industry and Tourism. She co-founded Haiti's Femmes en Démocratie in 1998, one of the oldest and strongest Vital Voices affiliates in the Latin America and Caribbean region.
The International DVF Award
Sadiqa Basiri Saleem
Sadiqa Basiri Saleem is an activist fighting for the education of girls in Afghanistan. After the Taliban shut down her Afghan-run school, Sadiqa founded the Oruj Learning Center, which provides uniforms, supplies, and funding for girls to study. Started as a school for 36 girls in an abandoned mosque, the Center now educates over 4,600 girls in six schools and more than 200 women at four literacy centers. Recognizing the growing need for women's access to higher education, in 2009, Sadiqa established the Oruj Leadership and Management Institute (OLMI), the first women's community college in Afghanistan. Over 134 young women have graduated from OLMI and 94% of graduates have received employment in Kabul. In 2011, Sadiqa established the Oruj Institute of Higher Education, Afghanistan's first all-female four-year university. Sadiqa has also created the Family Welfare Center for the Elimination of Violence Against Women, a domestic violence prevention project that provides services to 14,000 Afghan women, trains government staff on domestic violence and encourages spiritual leaders to discuss women's issues constructively.


The People's Voice DVF Award
Katherine Chon
Katherine Chon was recognized for her work as co-founder of Polaris Project, one of the leading anti-trafficking organizations combating modern slavery in the United States and Asia. With programs operating at international, national and local levels, Polaris systemically disrupts the human trafficking networks that rob human beings of their lives and their freedom. Their comprehensive model puts victims at the center, helping survivors restore their freedom, preventing more victims and leveraging date and technology to pursue traffickers wherever they operate.
People's Voice DVF Award Nominees
Let your voice be heard.
The People's Voice DVF Award is chosen by popular vote and will be celebrated at the 9th annual DVF Awards to be held on April 13, 2018 at the United Nations in New York City.
This year's nominees are:
Past Awards