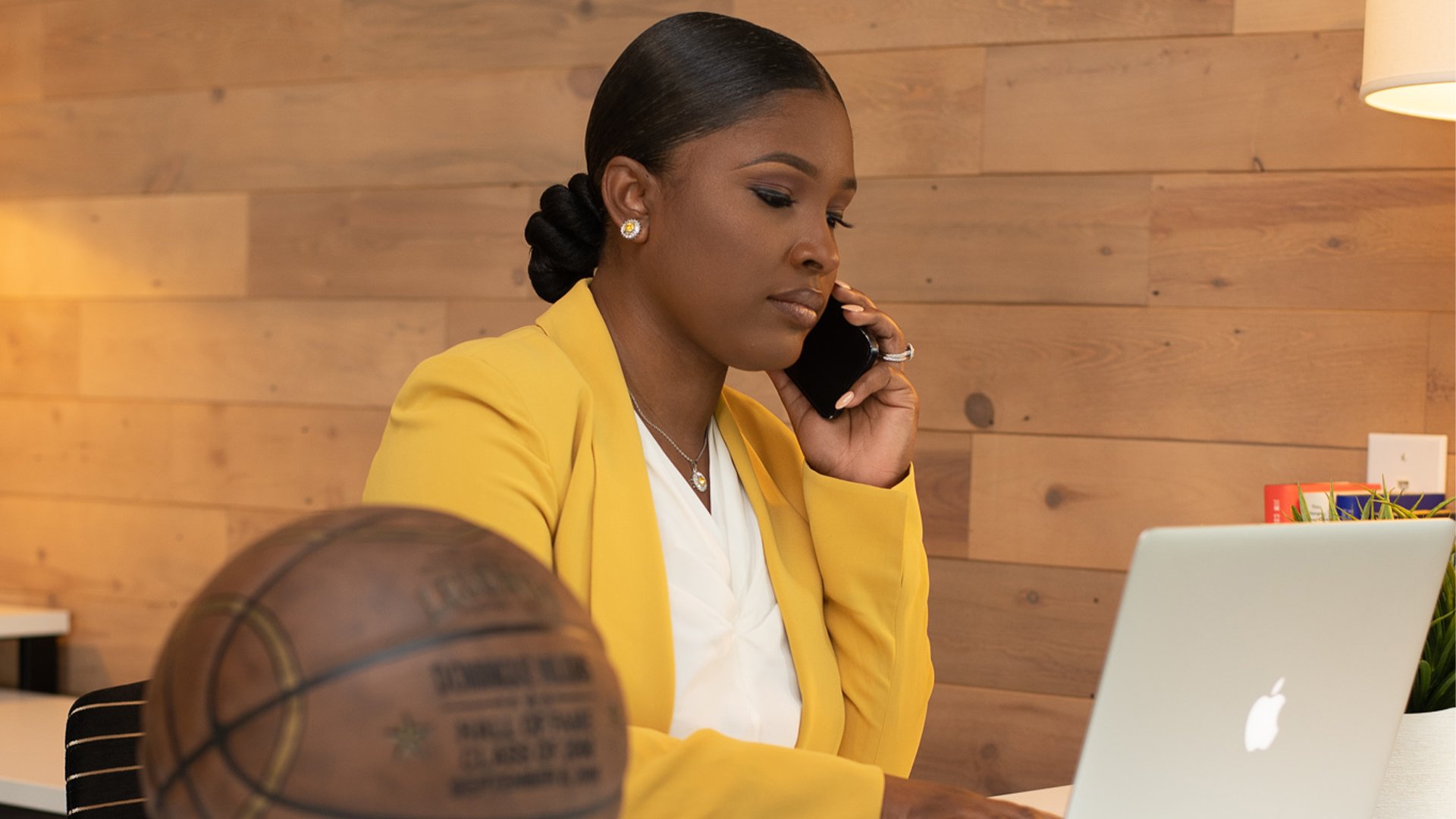 The #1 Goal Is to Pay It Forward
Few people set out to be the first. In Tori Miller's case, it was a matter of unwavering passion intersecting with the right personality. Growing up, Tori was always into sports. Her entryway, or "first love", as she puts it, was softball. At the recommendation of her coach, she tried out basketball and quickly realized she wasn't as naturally skilled at it, which put her in the position of having to figuratively court this new sport into becoming a new love.
"I was terrible," Tori laughs, "so I asked my mom to get a basketball hoop. We put it up in our home and I practiced all summer until I started improving. My initial intrigue for basketball came from not being immediately good at it and then it just grew. I played in middle school and high school, and I fell in love with the game."
Her athletic career didn't carry into college, "I'm 5'2 on a good day," she jokes, but that didn't mean she was ready to give up being near and around the court. By the time college rolled through, Tori had concluded that she wanted to be a sports agent and attended the University of Miami as a business major with a minor in sports administration. During her sophomore year, she interned at an agency in Miami which is how she was able to get her foot in the door as a woman in sports.
However, Tori's career journey was not a perfect swish, so to speak. Agency life, she says, is pretty rough since you can be hired and fired at any given moment. Instead, she found herself gravitating more and more towards the front office. Once she noticed that her strength and interests were in assembling teams, she course-corrected and set herself on the path towards becoming a GM.
Those outside of sports may not know what a GM does, so we asked Tori to define it in her words. "A good general manager (GM) is a great leader. Someone that empowers everyone around them—whether that's their employees in the front office or their players and coaching staff—to be the best they can be." While industry experience is needed, especially as a woman, leadership skills are hard to teach. According to Tori's family, she was born with the latter part down pat, "They used to joke that I was bossy because I was always the captain of the teams I was on and I liked giving out orders," she said with an edge of satisfaction. The harder part for Tori was getting the experience. After graduation, she started looking for opportunities on the path to GM-dom, eventually interning at the WBCA (Women's Basketball Coaches Association) in Atlanta. 
"Coming out of college, the plan was to be free, take six months off, and relax," Tori laughs, "but I couldn't pass up the opportunity to go back home and gain experience. It wasn't necessarily GM-related, it was a marketing internship, but the skills I gained helped prepare me for that journey towards the front office." It was after this internship that she narrowed her focus, sending her portfolio out to all 30 teams in the NBA, bound and pristinely printed—"My mom worked at a law firm at the time so I had the printer hook-up," she noted.
Being of Service is an Act of Self Love
"Not my garbage, but it's my planet", reads one of the signs on 5 Minute Beach Cleanup Foundation's website. The accountability (or lack thereof) one feels when spotting a piece of garbage on the street, at the beach, in a forest, or anywhere else, is something on which Carolina Sevilla, founder of 5 Minute Beach Foundation has some thoughts.
"We can all do something about it," she said, "It's just that we think it doesn't correspond to us, like 'I didn't throw it away, so I don't have to pick it up.' But even if it's not "our" garbage, it's still our responsibility. If the government isn't doing anything about it, the garbage stays in your space and in the air you breathe. Which ultimately makes it your garbage to worry about."
After 10 years of working in New York as a United Nations diplomat, Carolina decided to move back to Costa Rica to learn more and do something about the plastics in the ocean. As a city person, she sensed she had been missing that connection with nature and that it made her woefully unaware of what was going on in the waters. Despite having partnered with BIONIC, a textile company that turns marine plastic into thread, for some time as a Director of Operations, Carolina felt she could create a more direct impact by being face-to-face with the problem.
The change in environment and attitude was drastic for Carolina, but a rather refreshing variety of drastic. "When you're in New York, you get your Starbucks, throw it in the trash, and you do it every day without knowing where it may end up, you're so disconnected from nature that you can't see how it's changing. When I moved to Costa Rica, I lived in a treehouse and only had four bathing suits," she laughed, "So, it was completely different from the city, but it was so beautiful. It's the most beautiful thing that has ever happened to me. That's when I started taking walks and picking up plastic."
"If I see you that way, with love, I must let your grief into my heart, your story into my heart, I must stand up for you when you're in harm's way. What happens when we see George Floyd as our brother, or Breonna as a sister, migrant children as our own sons and daughters—what would we risk?" 
Back when Tori was working for the agency as a college sophomore, she connected with Irv Roland. By the time she was sending out her portfolios, Roland was three months into his new role as Player Development Coach at the Phoenix Suns. "Obviously, the first obstacle when I was applying was that I was a woman in a male-dominated space," she made clear, "but since Irv vouched for me, I was able to get an interview. After flying in and doing everything, I got the job." Tori was hired as an intern for one year and was invited back for a second. In Phoenix, she learned about scouting, personnel, and all the components that go into running an organization. It was exactly what she wanted to be learning. 
After completing her second year, however, she was ready for a full-time position and the Suns didn't have any available, so she was back to square one. She packed her car up and drove from Phoenix to Atlanta to move in with her mom and start applying once more. This time, she had more experience under her belt, so she was able to reach out more confidently and land some interviews. But by the time the season started, she had no leads.
"If September rolls around and you don't have a job, you're likely going to have to wait until the next season," she explained to us. Finding herself back at home and out of work for that year, Tori thought about what she could do to set herself apart while making progress towards her GM goal. Having had some agency experience, she decided to pursue unpaid scouting.


"I split time between Atlanta and Delaware because my husband used to coach for the 76ers' G League team, the Delaware Blue Coats. When I was in Atlanta, I'd drive to college games all around Georgia, Florida, Alabama, and South Carolina. When I was in Delaware, I'd focus on the G League and compile monthly scouting reports that I'd send out to all 30 teams. Eventually, my reports started to gain some traction." Her aptitude for finessing peaked through, "At the games, I'd ask to sit near the scouts so I could rub elbows and bother them during the games a bit," she smirked. That whole process led up to Tori meeting Malik Rose, who was working with Atlanta Hawks at the time.
Along the course of her walks—which she admits were never just five minutes—she realized that a large part of the climate issue was the public's lack of awareness regarding the scope of the matter. Noting the need for education, she decided to turn these five-minute walks into a learning tool.
She explained to us, "We depend on the oceans. We cannot live without them. I moved from focusing on human rights to focusing on marine life because I realized we cannot save people without saving the ocean first. One out of every two breaths we take come from the ocean. That means that we're inhaling those toxins and the health effects of consuming plastic are huge. We're not going to be able to have kids the same way, there will be new types of cancer, even men's penises will be smaller!" The last fact, she argued cheekily, is certainly one way to get people to snap into formation.
We could all learn a lot more about climate change, how our actions contribute to it, and how we can, as Carolina says, "Not only leave the world unharmed, but in much better condition. We don't just want to be sustainable, we want to be regenerative!" After working with the Costa Rican government, she was able to launch several different programs including Trace Your Plastic (an internationally hosted beach walk-and-learn wherein 5MBCF takes responsibility for upcycling all the debris collected), Friends of the Ocean (an initiative that supplies clean-up equipment to hotels, restaurants, and travel agencies that guests can borrow and use to pick up debris), and Ocean Heroes (an educational program for children).
While all of the 5MBCF's programs are high-priority, Ocean Heroes is one she is particularly passionate about since its success would make climate awareness a part of the Costa Rican public school curriculum. "I believe the youth needs to know what's going on," she said with a slight sense of urgency. "We created Ocean Heroes with the former president of Costa Rica. We agreed that elementary school kids are at the best age to learn about this because they are so fresh and impressionable. But we have to be careful about it because they can get very anxious or depressed. You know, Greta Thunberg, when she learned about the effects of climate change, she couldn't sleep." If it were to be approved as part of the general curriculum, kids would grow up with that foundational knowledge, consume consciously, and bring forth more informed solutions. It would be a great win for 5MBCF, Costa Rica, and ideally, other countries would follow suit.
Once the Atlanta Hawks started their G League team, the College Park Skyhawks, Malik Rose was appointed GM and he brought Tori on as Manager of Basketball Operations. In time, Tori was named Assistant GM and, two years ago, she was made GM, making her the first woman to be named General Manager of an NBA G League team. 
Seeing Tori's relentless drive and creativity pay off is beyond inspiring. She went after what she wanted with unyielding energy, even when there were simply no opportunities available for her. Many people in Tori's position may have given up or felt disillusioned, so we asked if she ever felt ready to throw in the towel. She replied, relatably, "Absolutely, I was broke," and let out a laugh before continuing, "It wasn't uncommon for me to be in Delaware wanting to see a game in Madison Square Garden, so I'd take the cheapest Greyhound bus. The game would end at 11 p.m. and my bus wouldn't be scheduled to leave until 2 a.m. so I'd wait at the station. I did crazy things like that all the time just to go to a game and bump into the right person.


"It's the least we can do," Carolina said, "To throw away the garbage we see on the ground. People notice, they say thank you, and maybe they'll pick up the next piece of garbage they see. Even I say thank you to the people who pick up garbage on the street. Being of service is an act of love for the planet and ourselves."
This idea of summoning ancestors is more accessible than one would think. Valarie channels the energy of her grandfather, a biological ancestor, but she also sits at the feet of Black thinkers like Dr. King, James Baldwin, Audre Lorde, and bell hooks.
"I heard the word 'no' probably a million times throughout my career," she recalled, "but I always tell young girls and everyone I speak to that I'm a strong believer in 'no'. Every 'no' helped me—figuring out what I could do better or just developing tougher skin."
Tori talks to young people often, particularly young women, about developing a career in sports. "Paying it forward," she says with pride, "is the number one goal." Now that the door has been opened for her, she wants to make sure it stays open. Whenever young women reach out to her, even if they're cold-calling, she'll always answer because she remembers being in their shoes. A story she holds close to her is that of Jillian White who contacted her five years ago, saying that she wanted to do what Tori did. At the time, Tori was not GM, but she was moved by Jillian's drive so the two had lunch and kept in touch throughout Jillian's career. This past year, Jillian accepted a position with Motor City Cruise, the Detroit Pistons' G-league team.
"I never really understand the magnitude of being where I am until I hear stories like Jillian's or Amber Nichols'"—the second female GM in the NBA G League, who accepted the position just a year after Tori became the first—"it makes it all worth it; makes my heart flutter." Both Tori and Amber had great seasons this year, which speaks not only to their shared camaraderie but their exceptional talent as well. "People always ask me what it felt like to be named GM, to be the first one to do it," Tori recalls, "but all I remember was getting flooded with emails, text messages, DMs, phone calls, from young girls saying thank you, thank you, thank you. That's when it really hit home."
This was shot by Anissa Baty, follow her on IG @nisshoots or check out her site to learn more. Thank you to the @CPSkyhawks media team, click their tag to follow them on IG. To keep up with Tori, check out her LinkedIn.
This idea of summoning ancestors is more accessible than one would think. Valarie channels the energy of her grandfather, a biological ancestor, but she also sits at the feet of Black thinkers like Dr. King, James Baldwin, Audre Lorde, and bell hooks.
"As soon as we put people up on pedestals and make them into saints, we sap them of all their power. It's so easy to say 'Well, they were saints. They were superhuman. That means I don't have to try and be like them.' What does it mean to see them in their messiness and faults? We can begin to acknowledge our own vulnerabilities and faults and say 'I too am worthy enough to be able to show up and live a life dedicated to love.'"